September 10th, 2020 | Riverside Recipes: Rosemary Focaccia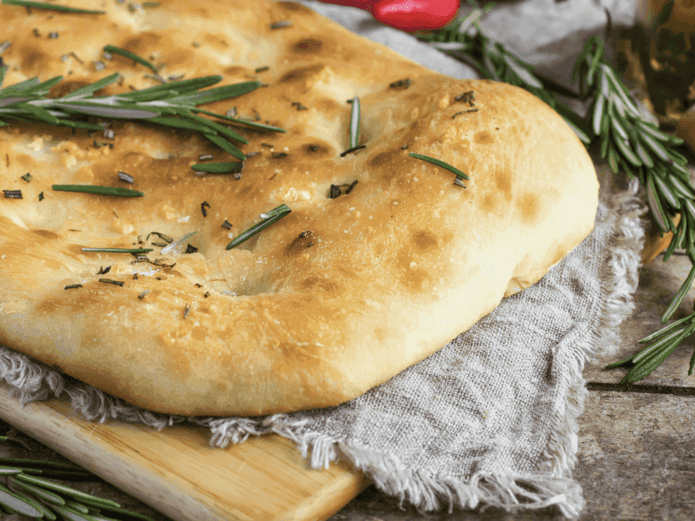 Riverside Recipes | Rosemary Focaccia
Our delicious Rosemary Focaccia Bread is made fresh everyday by our talented Pastry Team at Wild Sea Oyster Bar & Grille. Check out our recipe and learn how to make it yourself! Topped to perfection with fresh rosemary, olive oil and flaky sea salt. Fun Fact: This is the dough recipe we use for our Wild Sea Bread Service, Wild Sea Pizza Dough, & Boathouse at the Riverside Flatbread Dough!
Rosemary Focaccia
Makes 1 loaf
4 cups warm water (Not too hot or it will kill the yeast and your bread won't rise)
3 ½ tablespoons Instant dry yeast
2 ½ tablespoons Olive oil
6-6 ½ cups All-purpose flour
2 tablespoons Granulated sugar
1 ½ tablespoons Iodized salt
¼ cup chopped rosemary, separated in half (place 2 tablespoons into ¼ cup of oil for the top of the focaccia…set aside)
Kosher salt or Fleur de sel to taste
Procedure
1. Pour warm water into the bowl of a stand mixer. Sprinkle the yeast over the water and add the olive oil.
2. Add 6 cups all-purpose flour to the yeast mixture (hold back ½ cup flour and only add if the bread dough is too soft halfway through mixing time).
3. Add the salt, sugar and 2 tablespoons of chopped rosemary to the bowl and fit the mixer with the dough hook attachment.
4. Mix on low speed for 3 minutes. Turn off mixer and check dough consistency. If dough is still wet and sticky, add the remaining ½ cup flour. If it is pulling away from the sides of the bowl, you will not need to add the extra ½ cup. Set timer for 3 more minutes and let mix until a smooth ball of dough is formed.
5. While the dough is mixing, prepare one 18"x13" pan (half sheet pan) by pouring approximately 4 tablespoons of oil onto the pan and spreading it around to all edges.
6. Turn dough onto an oiled surface and press into a rectangle (same size as pan). Once you have pressed the dough into the rectangle and it no longer springs back (you might need to let it rest a few minutes between stretches), lift the dough onto the oiled pan. Gently stretch the dough to all edges.
7. Spread rosemary infused oil onto the top of the focaccia. Save remaining oil for when the focaccia is finished baking.
8. Dimple the top of the bread with your fingers and let the bread rise in a warm place for 20-30 minutes, or until doubled in height.
9. Pre-heat oven to 400F while dough is proofing
10. Once dough is proofed, dimple the focaccia one more time before baking.
11. Bake for 7 minutes, turn the pan and bake an additional 7 minutes, until the top is golden brown.
12. Remove focaccia from the oven and drizzle with the remaining rosemary infused olive oil.
13. Sprinkle with kosher salt or fleur de sel just to taste.
14. Slice focaccia bread and serve warm.
For Questions or Concerns Contact:
Email Bob Pallay, Director of Food & Beverage