Congratulations Visit Lauderdale | Everyone Under the Sun!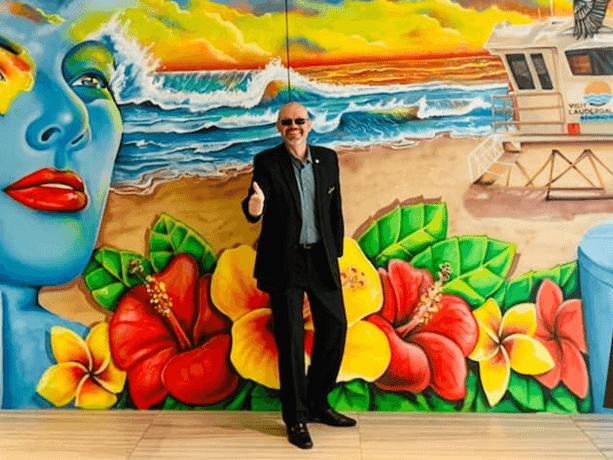 Fort Lauderdale just got a little bit sunnier! Today we are so excited to celebrate our friends at The Greater Fort Lauderdale Convention and Visitors Bureau as they announce their new brand as Visit Lauderdale with the destination tagline 'Everyone Under the Sun'. The tagline reflects the unique diversity and welcoming nature of the Greater Fort Lauderdale region. The announcement comes at the perfect time as this week is National Travel and Tourism Week, the time when destination marketing organizations share news about the power of travel and its positive impacts on local communities.
To beautifully illustrate the new brand, Visit Lauderdale commissioned internationally renowned airbrush artist Avi Ram, a Greater Fort Lauderdale resident, to paint a new 'Everyone Under the Sun' mural. The mural is on display at the entrance of the W Fort Lauderdale hotel. On special occasions, Ram is known for camouflaging human figures with body paint who then emerge to bring the art to life. An activation for the Visit Lauderdale brand launch featured painted models representing the area's diverse community. The mural, which stands alone without the camouflaged figures, shows the beauty of Greater Fort Lauderdale and the face of Mother Nature welcoming all to experience the area's natural beauty.
Heiko Dobrikow, Our General Manager showing his support for 'Everyone Under the Sun' at the brand new 'Under the Sun' mural by Avi Ram
"One of my goals when I took over as head of Broward tourism five years ago was to rebrand the organization and our destination to better support our community through tourism jobs and the positive economic impact it brings," says Stacy Ritter, President and CEO of Visit Lauderdale. "We have an incredibly diverse and inclusive community that is welcoming to literally everyone under the sun, and that message is now infused into all of our marketing as we invite people to Visit Lauderdale."
"We would like to take this opportunity to congratulate Stacy Ritter and the entire the VISIT LAUDERDALE team on a successful new brand launch", says Heiko Dobrikow, EVP & GM at The Las Olas Company & Riverside Hotel. "The new VISIT LAUDERDALE brand is a true reflection of the endless experiences for visitors and locals in our unique destination. We are committed to bring smiles to EVERYONE UNDER THE SUN. So pack those bags and VISIT LAUDERDALE."
We are proud to let our brand new Visit Lauderdale flags, welcoming our guests at our entrance, fly high in support of this exciting new announcement. Stop by, check them out for yourself, and show your support for 'Everyone Under the Sun'!
Click Here to Watch: The New Visit Lauderdale Welcome Everyone Under the Sun
Click Here Learn More about Visit Lauderdale